Students Mastering the Art of Southern Hospitality (SMASH)
Students Mastering the Art of Southern Hospitality (SMASH)
SMASH 2023 is SOLD OUT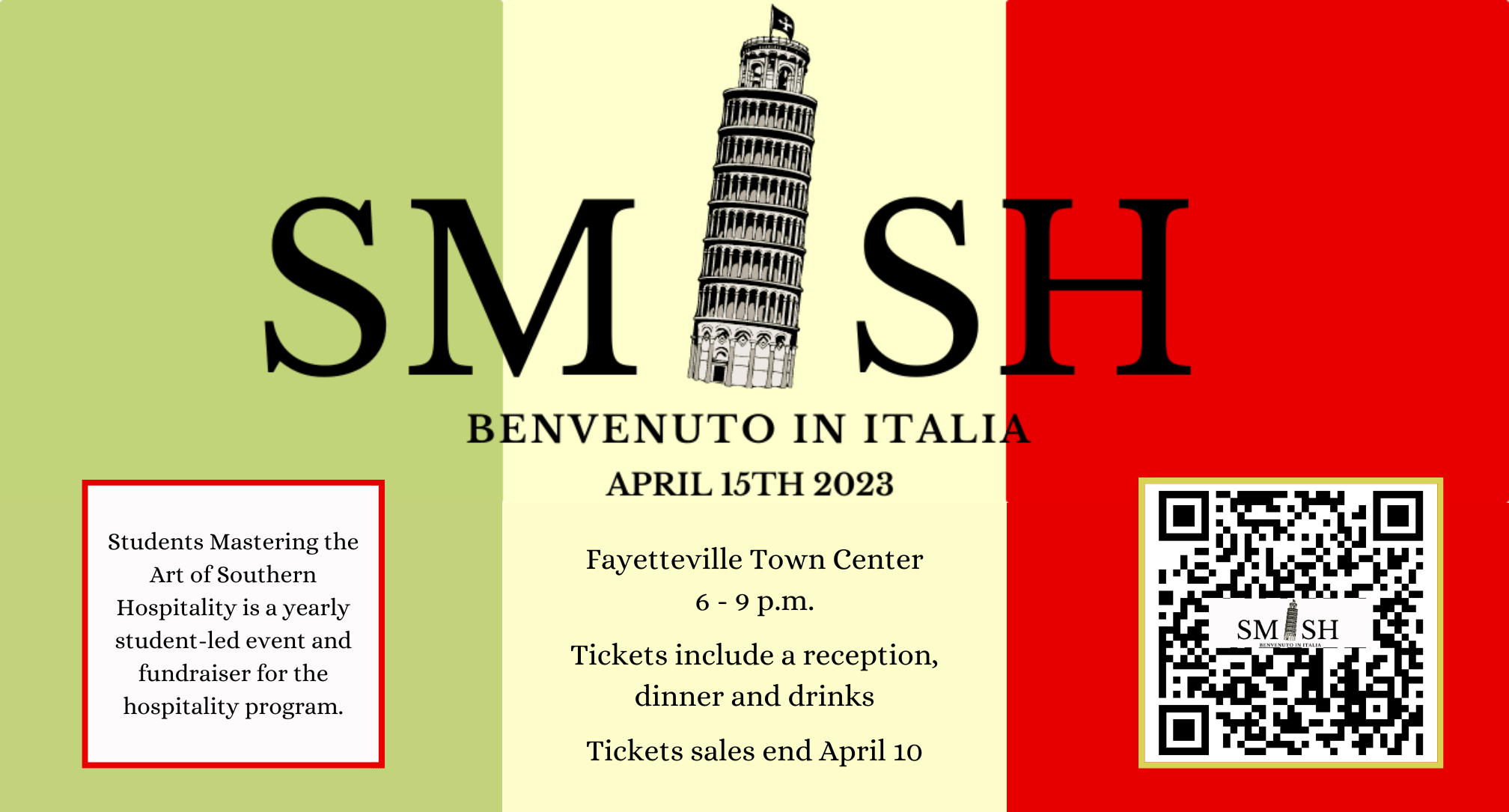 The School of Human Environmental Sciences is excited to invite you to join us for SMASH 2023! Students Mastering the Art of Southern Hospitality (SMASH) is an annual student-run event for networking and fundraising for the hospitality program at the University of Arkansas.
SMASH is a way for hospitality students to have a chance to plan and execute an event, giving them experience and an opportunity to learn more about the event and catering industry. Italian is this year's theme, and with all of the Italian decor, activities and food you will be transported into a new world. Our studnets are striving to give the guests the best night, full of new cultural experiences. Do you want to take a trip to Italy for the night? We have several packages available - from a single ticket to a whole table, there is something for everyone.
This year's event will be held Saturday, April 15 at the Fayetteville Town Center from 6-9 p.m.
When you've decided on your ticket package, please head over to our FundRAZOR page to make your purchase and register for the event. Deadline to purchase tickets is April 10.
SMASH 2023 Guest Packages
| | | |
| --- | --- | --- |
| Package Name | Package Cost | Inclusions |
| SMASH Couples Package | $170 (per couple) | Includes reception, dinner, beer & wine ($40 charitable donation) |
| Student Parents & Grandparents Package | $160 (per couple) | Includes reception, dinner, beer & wine ($40 charitable donation) |
| SMASH Single Ticket | $85 (per individual) | Includes reception, dinner, beer & wine ($15 charitable donation) |
| HESC Faculty & Staff Ticket | $75 (per individual) | Includes reception, dinner, beer & wine ($15 charitable donation) |
| Hospitality Alumni Ticket | $60 (per individual) | Includes reception, dinner, beer & wine ($0 charitable donation) |
SMASH 2022 Sponsorship Packages
Package Name

Package Cost

Inclusions

Naples (three available)

$5,000

Tickets for ten guests for reception and SMASH event ($4,400 charitable contribution)
Premier exposure of company logo in recognition video during event and in social media promotion of the event
Interactions with UA Hospitality students throughout the year (i.e., classroom presentations, on-campus interviews and networking, mentoring of students by company representatives, top selections for potential interns, etc.)
Thank you award

Milan (three available)

$3,000

Tickets for eight guests for reception and SMASH event ($2,520 charitable contribution)
Use of company logo in recognition video during event and in social media promotion of the event
Thank you award

Rome (five available)

$1,500

Tickets for six guests for reception and SMASH event ($1140 charitable donation)
Use of company logo in recognition video during event and in social media promotion of the event
Thank you award

Florence (ten available)

$550

Tickets for four guests for reception and SMASH event ($310 charitable donation)
Use of company logo in recognition video during event and on all social media platforms for the event
Thank you award

Venice (ten available)

$300

Tickets for two guests for reception and SMASH event ($180 charitable donation)
Thank you award
---