Enclothe Fashion Show
ENCLOTHE 2022

Enclothe is the annual Apparel Merchandising and Product Development fashion show put on by the School of Human Environmental Sciences in the Dale Bumpers College of Agricultural, Food and Life Sciences. Garments created by students are the star of the show, but Enclothe: Embody also allowed guests to see the business, sustainability and merchandising aspects of what students learn while designing garments.
Enclothe: Embody was held Thursday, March 31, at Crystal Bridges Museum of American Art in Bentonville (600 Museum Way). The 2022 event highlighted a campus collaboration with AMPD, the department of Electrical Engineering, the department of Music, the Fay Jones School of Architecture and Design, and the department of Agricultural Education, Communications and Technology.
Stay tuned for information about ENCLOTHE 2023!
enclothe 2022 photos
Photos by Russell Cothren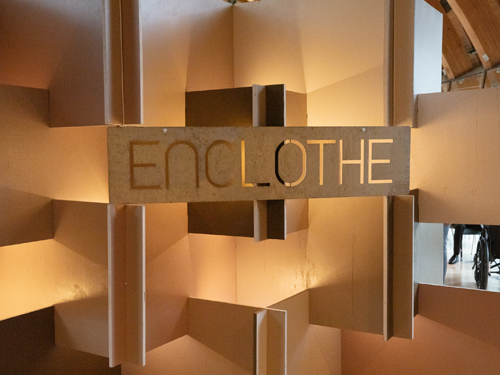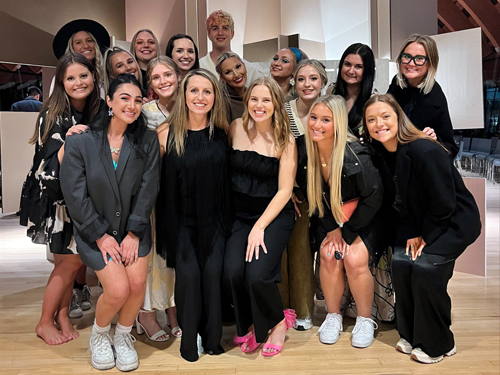 Left: the ENCLOTHE backdrop. Right: members of the ENCLOTHE team after the event.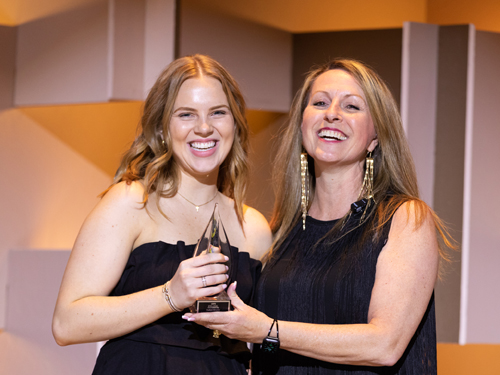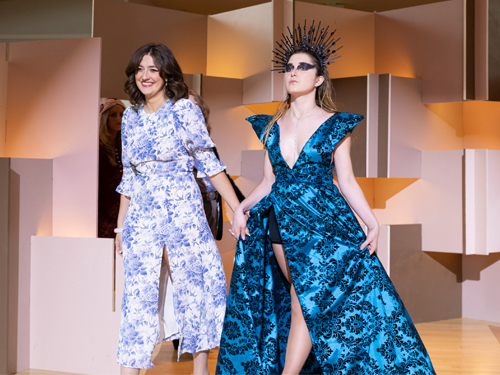 Left: Olivia Thornton, winner of the Student Director's Award with Stephanie Hubert. Right: Emma Sandler, winner of the Student Team Award, with Eleanor McCabe modeling the black and dark teal evening gown with pointed shoulder pads.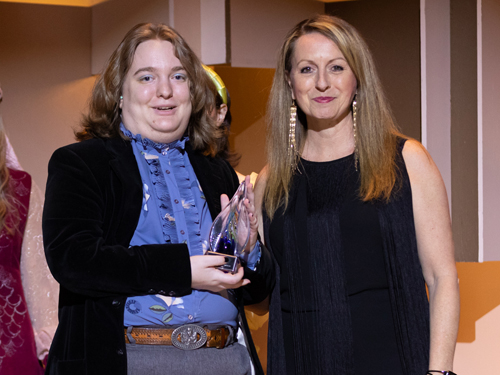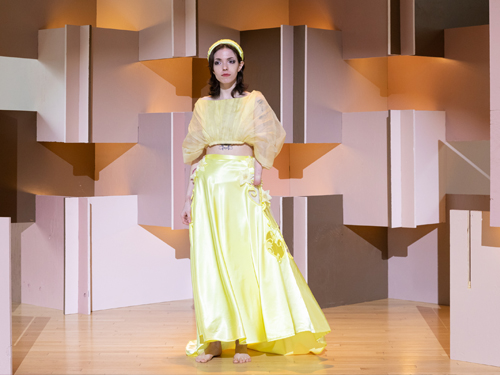 Left: Aubrey Costello, winner of the Embody Award, with Stephanie Hubert. Right: Nathalie Corinne modeling Costello's pale yellow art deco evening gown.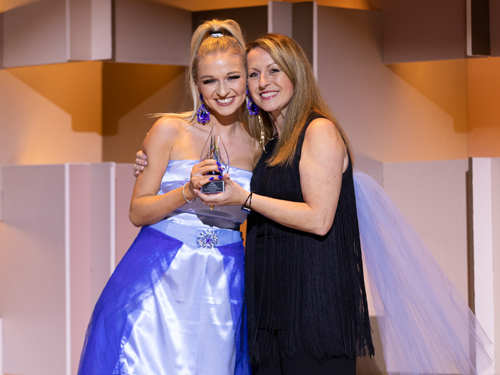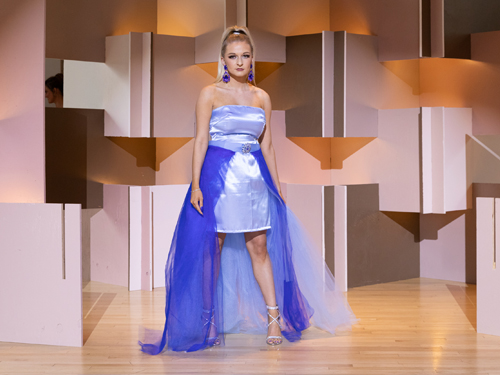 Left: Jordan Peichel, winner of the Innovation Award, with Stephanie Hubert. Right: Peichel modeling her light blue and dark blue mini dress with detachable tulle skirt.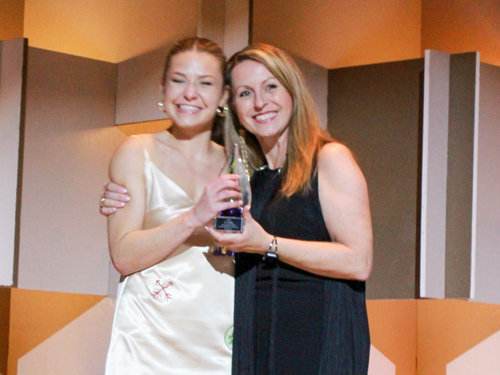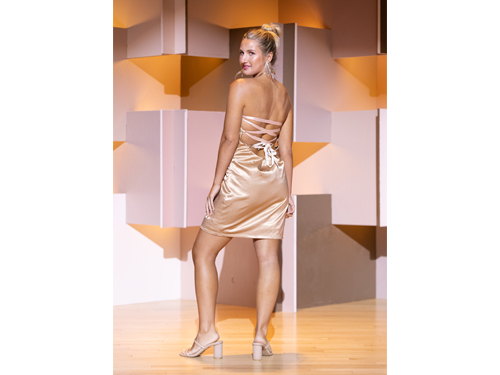 Left: Eve Kleinz, winner of the Introspection Award, with Stephanie Hubert. Right: Allie Karnes modeling Kleinz's champagne mini halter dress.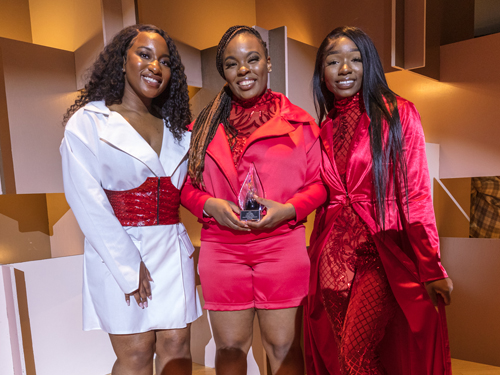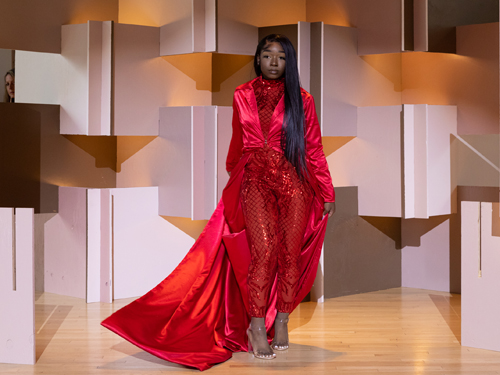 Left: Jayla Lee (center), winner of the Inclusion Award, with models Tiana Sigears (left) and Tionna Martin (right). Right: Martin modeling Lee's red blazer gown two-piece set.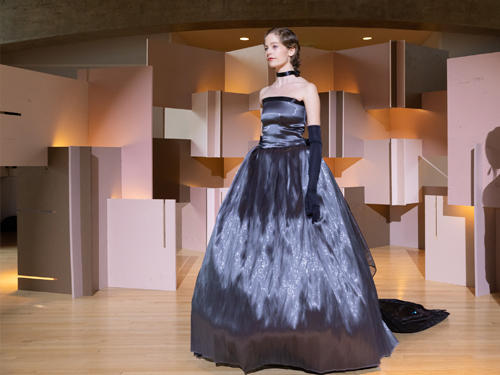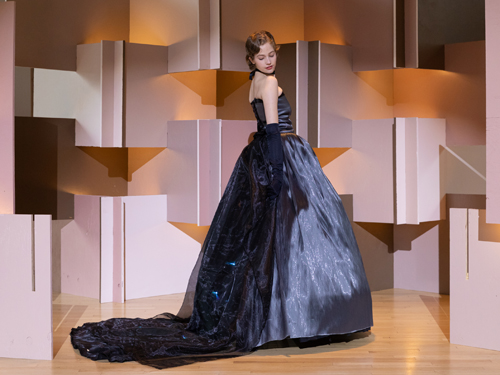 Audra Beneaux modeling the black fiber optic hoop skirt gown.
---